Around the airport economic zone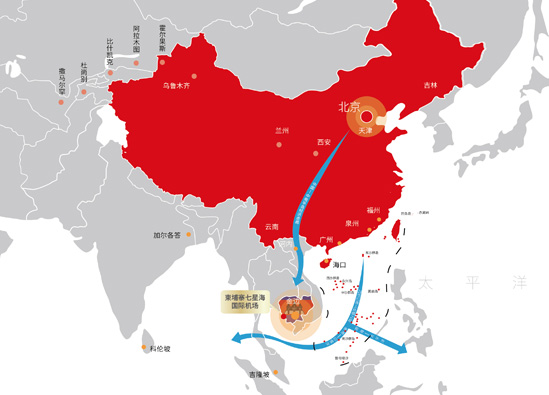 The DaraSakor is adjacent to the Gulf of Thailand, along the southwestern coast of the Kingdom of Cambodia, covering an area of 360 square kilometers, extending in an L shape to two wings. The coastline is about 90 kilometers long, accounting for about one-fifth of the total coastline of Cambodia and two of the high-quality coastline of Cambodia. One part, the lease term of the land is up to 2107, one third is protected land, and the construction land area is 234 square kilometers.
The plot is about 40 kilometers long from north to south, and about 6 kilometers deep; about 30 kilometers from east to west, and about 4 kilometers deep. Adjacent to the 180,000 hectares of national forest reserve, the project has the world's second largest mangrove reserve. Relying on the scarce resources of 90 kilometers of high-quality coastline, combined with the Cambodian government's ten-year development plan and the Four Corners strategy, the focus is on the development of the marine economy, and it has become a new level of growth that drives Cambodia's economy.
The Cambodian government authorizes Coastal City, as the only city operation and management party of DaraSakor that connects with the government. In the future, DaraSakor will become a regional air transportation hub in the trade markets of South Asia, Southeast Asia, and ASEAN, and an important shipping distribution center in the world's shipping landscape. At the same time, Coastal City, will use its strong industrial integration capabilities to introduce high-end functions such as tourism and vacation, business services, and technological innovation. It will realize the most complete supporting service layout in Cambodia and even Southeast Asia, and further promote the maximization of regional operation functions and the lowest operating prices.